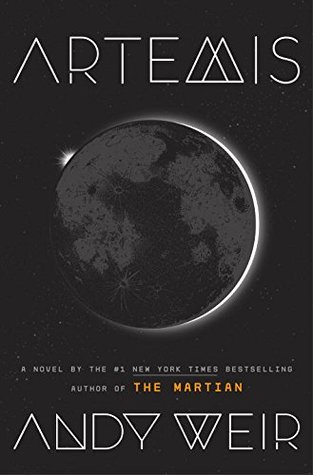 Artemis
by
Andy Weir
Release Date: November 14, 2017
Jazz Bashara is a criminal.
Well, sort of. Life on Artemis, the first and only city on the moon, is tough if you're not a rich tourist or an eccentric billionaire. So smuggling in the occasional harmless bit of contraband barely counts, right? Not when you've got debts to pay and your job as a porter barely covers the rent.
Everything changes when Jazz sees the chance to commit the perfect crime, with a reward too lucrative to turn down. But pulling off the impossible is just the start of her problems, as she learns that she's stepped square into a conspiracy for control of Artemis itself—and that now, her only chance at survival lies in a gambit even riskier than the first.
Source: ARC from publisher, Crown Publishing Group
This is my honest review.
Rating: 4 Stars ~ LOVED
A thoroughly absorbing read that takes place on the moon!
After devouring The Martian, I very much wanted to read more from Andy Weir. His much anticipated science fiction novel about a city on the moon was something I definitely wanted to read. Artemis is absolutely an engaging read with a fascinating plot that surrounds pulling off the perfect lunar crime.
The star of Artemis is Jazz Bashara. Jazz has lived on the moon most of her life. She's beautifully flawed and a likeable criminal. She doesn't have much in terms of material wealth, but she's one determined individual who's smart, resourceful, and witty with a significantly sassy mouth. As her backstory unfolds, I think many will relate to her character and why she makes certain choices. I liked that the characters were ethnically diverse and compelling in varying degrees. One of my favorite aspects of this story is Jazz's ongoing, and often amusing, banter with her childhood friend from Earth.
Although I thought the story wrapped up in a way that didn't wow me as much as the ending for The Martian, I still found Artemis to be an absorbing read filled with sacrifice, conspiracy, and a healthy dose of sarcasm. Andy Weir's take on living on the moon is quite captivating, too. Being a science nerd, I appreciate the science that seems logical in creating a city on the moon. I do hope that we'll see more of these characters again in future stories.
Book Links: