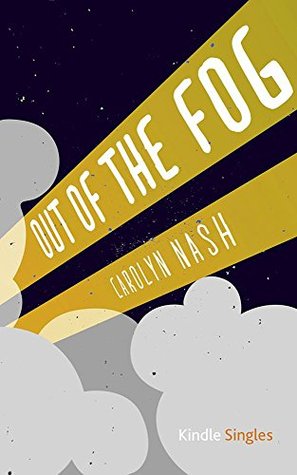 Out of the Fog
Author: Carolyn Nash
General Fiction
Audiobook Publisher: Audible
Narrator: Ilyana Kadushin
Publication Date: November 30, 2015
What if you're a suburban mom with a snarky sense of humor and a wild imagination prone to dreaming up disasters? What if you and your friends take your daughters for a camping trip, and while on a quick trip to the nearest country market you see a man being bullied and then beaten? What do you do? Back away quietly? Not if you're Molly Deacon who, along with her Mittyesque imagination, has a temper not to be trifled with. Stepping in to rescue Alan Cartwright has consequences far beyond what Molly could ever imagine, and she must find hidden reserves of strength to survive a terrifying chase through a foggy night.
Rating: 4 Stars
I saw the word 'Mittyesque' and I was sold without giving much more attention to the blurb.

I don't know about you, but back in high school (dating myself here) I enjoyed The Secret Lives of Walter Mitty when I checked it out of the library off of the extra credit reading list for English class.

I was excited to see that this is about a woman who has Mittyesque daydreams except hers are all doom and gloom instead of savior of the world stuff.

This was a short, yet engaging story that hit several emotional connects for me.
Molly Deacon has to leave the campsite to head into town because of the minor disaster with their food cooler.
The night in the forest is very foggy, but she gets to the nearest little town, does her marketing, and is about to head out.
That's when she sees a man getting threatened by three large men.
Several stand around and watch.
Molly can hear enough to know that the guy is being bullied for being gay.
Calling emergency doesn't help.
But then things escalate as does Molly's temper.
Molly charges in and rescues the man after he is kicked and beat up badly.
Now, instead of dreaming up disasters in her daydreams, she is in one.
The area is remote, the lead bully is the sheriff's son, and there is no one to stop the chase that will lead to Molly and Allen being 'taken cared of'.
Molly and Allen have to get out or get help, but they definitely need to survive.
Her husband and kids need her.
And so, this was a unique twist on an old story.
Molly slips inside her head and imagines the worst-case scenarios.
It's a coping mechanism she picked up because of her issues from childhood.
She is a middle-aged, average looking suburban mom, but she champions Allen like a gladiator.
The bullying was brutal and the closed in community run by an authoritative bigoted sheriff gave me shivers.
The suspense was good as was the developed camaraderie between Molly and Allen.
I liked the survivor-type story as they worked together to stay alive.
I only had two little niggles with the story.
First, it was hard for me to tell when Molly slipped into a horrible daydream and when it was real.
I suppose that was on purpose because that's how the original story was, too.
Second, the ending was very abrupt.
The climax came and there wasn't really a denouement to speak of.
It's over?
uh, okay, was my brilliant response.
I listened to this one on audio.
Ilyana Kadushin was a new narrator for me.
I was okay with her as a narrator, but I did have trouble with her 'Allen' voice (good guy) sounding like the one she did for the bad guy (pinched and raspy).
Her pacing and emotional tones were pretty good.
One scene drew tears from me.
All in all, I enjoyed my revisit in this Walter Mitty gender swapping retelling.
It touches home with issues of hate crime, taking a stand on principles, 'don't get involved b/c it has nothing to do with me' bystanding, and of course being prepared for emergencies.
I would recommend this one for those who want a fast read and enjoy general fiction with heart.
My thanks to Audible for the opportunity to listen to this story in exchange for an honest review.
Guest reviewer Sophia Rose regularly blogs and reviews at
Book Links: