Title: Rendezvous in Point Reyes
Author: Elisabeth Barrett
Series: West Coast Holiday #3
Release Date: October 20, 2015
For shy, quiet Stella Flynn, love is an illusion. After a rough divorce, all she wants is to make a fresh start and get on with her life. Unfortunately, she spends all her waking hours working at her family's Napa Valley winery alongside her ex, the assistant winemaker. Unable to bear the thought of spending another weekend surrounded by lovey-dovey couples, especially after suffering through a lonely holiday season, she escapes to Point Reyes to wallow. Little does she know that an old family friend has other plans …
Sexy, free-spirited Jason Roberts has secretly been in love with Stella for years. The problem? She's his best friend's younger sister, and Stella's brother would kill him if he ever broke her heart. Besides, Jace is pretty sure that Stella thinks of him like another brother, not a lover. But then he notices the way she's looking at him, and one perfect kiss changes everything.
Over a long, romantic weekend, Stella and Jace discover that seduction is a game that's easy to lose … and that the path from friends to lovers is never as smooth as it seems.
Source: e-book from author
Rating: 4.5 Stars ~ LOVED
Cheese + Wine make a wonderful pairing!
Rendezvous in Point Reyes
is the third West Coast Holiday novella and one of my favorites in the series. Elisabeth Barrett creates a wonderful, romantic weekend getaway type of read with a friends-to-lovers theme.
Stella Flynn is the sister of Liam (from
NewYear's in Napa
) and helps run the family winery in Napa Valley. It has also been a few months after her divorce, and she just needs to get away for a few days, especially since it's Valentine's weekend. She ends up in Point Reyes Station, a small coastal town in Northern California, where she runs into her brother's best friend, Jason Roberts.
Here's why I adored
Rendezvous in Point Reyes
:
Stella and Jason make a great pairing! I love the friends-to-lovers theme, and I think it worked well in this novella. Jason has held back his feelings for Stella for so long, and now that she's divorced, well, game on! He knows he has to tread carefully as things could get awkward quick, you know. I liked Stella, because she's trying to move on with her life. Her visit to Point Reyes seems to come at a pivotal point in both their lives, and I loved seeing things play out.
I've read quite a few stories from Elisabeth Barrett by now, and I've come to know that she can write beautiful settings well. I know that I'll be whisked away when I read something from her, and that is exactly the feeling I got from this novella. I've been to this part of the world before, and reading
Rendezvous in Point Reyes
actually took me back to remember the food, people, and sights. Makes me want to go back there again!
If you're looking for a quickie read that centers around cheese, wine, friendship, and romance all wrapped up in a lovely setting, then don't hesitate to give this one a try!
In Rendezvous in Point Reyes, there is mention of Stella at Oxbow Public Market, which is in Napa Valley. I visit Napa quite often, and Oxbow Public Market is one of my favorite stops there for great local food. I happened to be there recently and stopped by for a quick organic snack and coffee break. I couldn't resist taking this picture:
Book Links:
West Coast Holiday series:
(each can be read as a standalone)
Christmas in Tahoe
Rendezvous in Point Reyes
Read Christmas in Tahoe for FREE
by signing up for Elisabeth Barrett's newsletter:
I know people are seeking holiday reads this time of year. Here is my Christmas in Tahoe review originally posted in December 2013: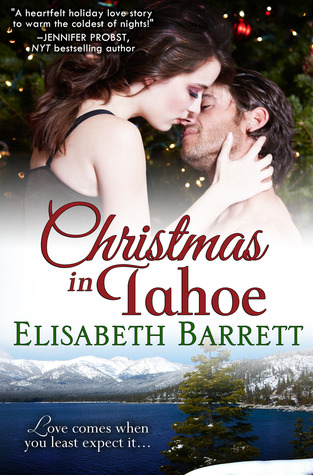 Sign me up for one of Chase Deckert's snowboarding lessons, please!
I don't know about you, but when the holiday season is in full swing, I tend to be in the mood for some romantic holiday reads! Christmas in Tahoe was everything I wanted, and I was pleasantly surprised at how much I truly enjoyed this novella.
Ann Smith is still mourning the loss of her fiancé, who had passed away around Christmastime a few years back. It's been hard for her to move on, and understandably so, the holiday season tends to not be a merry one. Ann and her friend make plans for a fun getaway in Lake Tahoe during Christmas, but at the last minute her friend can't make the trip and instead sends someone else to accompany Ann.
Oh, y'all need to meet Chase Deckert! He's one hunky snowboarder, and ultra SMART...PhD level smart! I find that combo in a man really HOT! Although bio-tech companies are after his research, there's a huge reason why he left Silicon Valley. He was all set to spend Christmas alone until a friend asked for a favor. Once Chase gets to know Ann, he realizes she's no plain Jane! She totally surprises him that she can handle her skis, and they continue to have a fun time together.
The setting in Tahoe was delightfully written. I felt like I was transported to the top of the snowy mountain with Chase and Ann. It's a perfect place for romance to blossom. Ms. Barrett also injects some local San Francisco Bay Area flair into this story, which made me smile! Chase and Ann are two broken souls. I love it when people get a second chance at happiness! Christmas in Tahoe is sexy, smart, and filled with the perfect amount of holiday spirit! Roxy, the black lab is adorable, too!
Author Website: