~ Series Audiobook Review ~
Since this series only has 2 books, I figured I would review them at the same time. You can't read one without reading the other, preferably in order. On a side note, I actually met Jenny Han at the Bay Area Book Festival over the weekend! Did you know that when she was little she used to actually write love letters (really long ones) to the boys she has loved. She would keep them in a box, and they would only be for her eyes only just like Lara Jean intended in To All the Boys I've Loved Before, although they were never mailed out. It was a delight listening to her speak, and I appreciate these books even more now.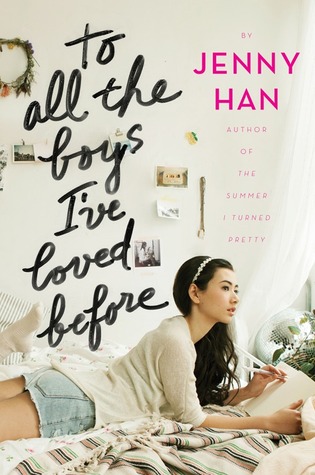 Title: To All the Boys I've Loved Before
Author: Jenny Han
Series: To All the Boys I've Loved Before #1
Genre: Young Adult/Teen Contemporary
Release Date: April 15, 2014
Synopsis:
What if all the crushes you ever had found out how you felt about them…all at once?
Lara Jean keeps her love letters in a hatbox her mother gave her. They aren't love letters that anyone else wrote for her; these are ones she's written. One for every boy she's ever loved—five in all. When she writes, she pours out her heart and soul and says all the things she would never say in real life, because her letters are for her eyes only. Until the day her secret letters are mailed, and suddenly, Lara Jean's love life goes from imaginary to out of control.
Publisher: Recorded Books
Narrator: Laura Knight Keating
Rating: 4 Stars ~ LOVED
What a fun premise for a teen book! Lara Jean wrote love letters to her crushes a few years back. They were always meant to be for her own viewing. Now those letters get accidently mailed out and she must deal with the outcome of her crushes knowing how she felt about them. Oh boy!
It's been a while since I've picked up a young adult book to read. I decided to listen to the audiobook, and immediately I found Lara Jean to be a delightful character. She is the middle child in a family with three girls. One of the things I adored about this story is the family dynamic with Lara Jean and her siblings and father. Her older sister, Margot, is leaving for college, and now everyone must adjust to the change. She also has big shoes to fill since Margot was somewhat the mother figure of the family. Then there are her friends, some of which she's known for a long time. A few of them will get letters.
Jenny Han is a new-to-me author. I found the journey she gave Lara Jean to be realistic and filled with first crushes, heartache and the usual growing pains. For a 16 year-old hopeless romantic, this whole letter situation can be so awkward and embarrassing. I love how Lara Jean ends up dealing with everything going on in her life. I'm so glad there's a sequel, because, I definitely needed more when I reached the end.
The talented Laura Knight Keating narrates this series.
To All the Boy's I've Loved Before
is my first time listening to one of her audiobooks. I found that she successfully changes her voice with each character, which is not an easy thing to do, but I appreciate when narrators do this well. She was a big reason why I picked up the sequel,
P.S. I Still Love You
, in audiobook form. Lovely performance!
Book Links:
Amazon
|
Audible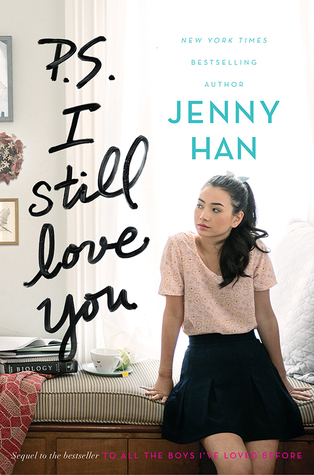 Title: P.S. I Still Love You
Author: Jenny Han
Series: To All the Boys I've Loved Before #2
Genre: Young Adult/Teen Contemporary
Release Date: May 26, 2015
Synopsis:
Lara Jean didn't expect to really fall for Peter.
They were just pretending. Until they weren't. And now Lara Jean has to learn what it's like to be in a real relationship and not just a make believe one.
But when another boy from her past returns to her life, Lara Jean's feelings for him suddenly return, too.
Can a girl be in love with two boys at once?
In this charming and heartfelt sequel to the New York Times bestseller TO ALL THE BOYS I'VE LOVED BEFORE, Lara Jean is about to find out that falling in love is the easy part.
~Audiobook~
Publisher: Recorded Books
Narrator: Laura Knight Keating
This is my honest review
Rating: 5 Stars ~ EXCELLENT
P.S. I Still Love You
is truly a sweet continuation of To All the Boys I've Loved Before. As the summary suggests, Lara Jean and Peter are no longer pretending to be together; however, not everyone is happy with this development. Someone even goes out of the way to do something terrible. Will Lara Jean persevere through this new situation?
I adored Lara Jean in the first book, and I was absolutely smitten with her in this book!
P.S. I Still Love You
had more of a nostalgic feel to it, which I enjoyed very much. The characters reflected on things that happened in the past. There's this really cool scene that caused me to sport a huge grin. I love how Ms. Han writes these unique and special moments for Lara Jean, because how fun would that be to really experience what happened in that particular chapter. I could literally feel the butterflies fluttering in the tummy. Finally, Kitty rocks! Lara Jean has the best little sister…EVER!
Again, it was such a pleasure to listen to the
P.S. I Still Love You
audiobook. There was a singing moment that was so entertaining that I had that song playing around in my head for a while. I love all the voices Laura Knight Keating does for the audiobook, but my favorite must be the one she does for Stormy, a lady who lives at the retirement home. I truly believe Ms. Keating was the perfect choice to narrate this series. She provides much dimension to her narration that both
To All the Boys I've Loved Before
and
P.S. I Still Love You
were, for me, a genuine listening treat.
"It organically feels like two books to me-- two halves of a heart" ~Jenny Han
P.S. After reading the second book, you may feel you want more. So many fans want a third book, which I certainly understand. If there's a third book in the future, I will gladly read it. Upon reaching the end of this book I wanted more, too; however, the more I thought about it, the more I realized that it all ends at such a sweet moment. Jenny Han writes such lovable characters that, in my mind, they live on…and they do.
Book Links:
Goodreads
Amazon
|
Audible
Author Website:
http://www.dearjennyhan.com/