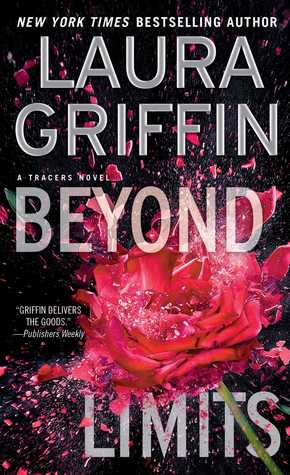 Title:
Beyond Limits
Author: Laura Griffin
Series: Tracers #8
Genre: Romantic Suspense, Mystery/Thriller
Release Date: January 27, 2015
Synopsis
FBI agent Elizabeth LeBlanc is still caught in the aftermath of her last big case when she runs into the one man from her past who is sure to rock her equilibrium even more. Navy SEAL Derek Vaughn is back home from a harrowing rescue mission in which he found evidence of a secret terror cell on US soil. Elizabeth knows he'll do anything to unravel the plot—including seducing her for information. And despite the risks involved, she's tempted to let him. Together with the forensics experts at the Delphi Center, Derek and Elizabeth are closing in on the truth, but it may not be fast enough to avert a devastating attack…
Following in the bestselling tradition of the Tracers series, including
Exposed
,
Scorched
,
and
Twisted
,
Beyond Limits
pulls out all the stops with Griffin's most gripping thriller yet.
Rating: 5 Stars - Excellent
Everything I wanted in a thrilling romantic suspense!
I've been pretty lucky lately reading some good romantic suspense. I was given the opportunity to read
Beyond Limits
…wow, wow, wow!!! My first time reading anything from Laura Griffin, and
Beyond Limits
went way beyond any of my expectations!
From the beginning I was hooked into the story as Navy SEAL Derek Vaughn and his team discover something huge during a rescue mission in Afghanistan. When he returns home he crosses paths with the one woman he couldn't stop thinking about since their first meeting, FBI agent Elizabeth LeBlanc. As it becomes evident that an attack might be unleashed on a major U.S. city very soon, Derek and Elizabeth quickly combine their expertise in order to thwart an act of terrorism from happening.
I devoured every single page of Beyond Limits! This is exactly the type of romantic suspense that I LOVE! It has a fast-paced, intricate, and thrilling plot that keeps you on pins and needles all throughout the story. I liked that Derek and Elizabeth already knew each other and couldn't stop thinking about the other while they were apart. Derek had it bad for Elizabeth and pretty much made it his mission to pursue her as soon as he could. When Derek focuses on something he wants, he doesn't waste time! Despite their issues, the chemistry generated was absolutely delectable. I really couldn't get enough of these two!
I read
Beyond Limits
so quickly that I ended up reading it again at a leisurely pace. I enjoyed it even more the second time! This was my first
Tracers
novel, and I had no problem reading it as a standalone. I'm so curious now about the other books in the series that I definitely will make time to read them all while waiting for the next one!
Book Links
About the Author
New York Times and USA Today bestselling author LAURA GRIFFIN
started her career in journalism before venturing into the world of romantic suspense. She is a two-time RITA Award winner (for the books
Scorched
and
Whisper of Warning
) as well as the recipient of the Daphne du Maurier Award (for
Untraceable
). Laura currently lives in Austin, where she is working on her next book.
http://www.lauragriffin.com/
*Disclosure: this post contains affiliate links, which means if you buy the book using the link, I will make a small affiliate commission